Burmese Rosewood - Mini Bolt Action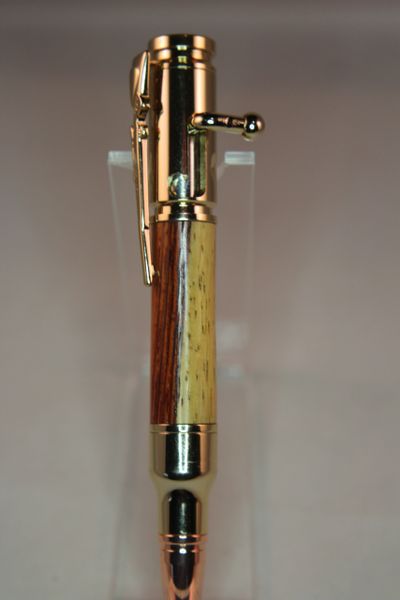 Burmese Rosewood - Mini Bolt Action
This Mini Bolt action is the Little Guy of the bunch. This ChicagoPen is created from Burmese Rosewood . It is a unique piece that is very limited in quantity. Any huntsman, military, or gun enthusiast will love this. This Chicago Pen is finished with a 24K gold metalwork that compliments the colors in the body. The bolt action lever extends and retracts the ink. The clip is a miniature representation of a rifle. The tip of the pen is a representation of a 30 caliber bullet tip.

This ChicagoPen uses a replaceable mini style ink refill available here or at anywhere that sells office supplies.
This ChicagoPen is approx. .35 inches in diameter.
This ChicagoPen is approx 4 inches long
This wood species is not listed in the CITES Appendices, but is on the IUCN Red List. It is listed as endangered due to a population reduction of over 50% in the past three generations, caused by a decline in its natural range, and exploitation.