Celtic Bethleham Olivewood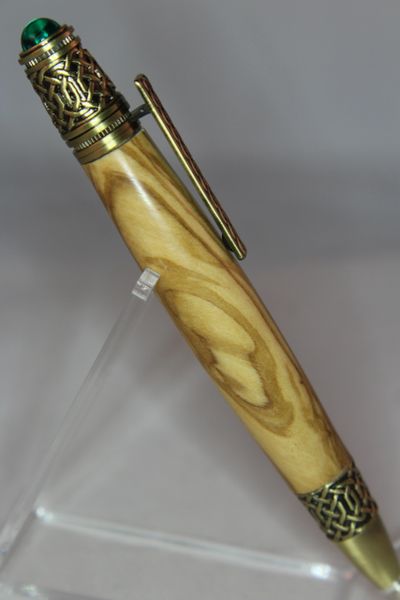 Celtic Bethleham Olivewood
This Celtic themed pen is made from Olivewood cut from Olive trees grown in Bethleham.
Olive wood trees from the ancient city of Bethlehem, Israel (also known as Roman trees) have been bearing fruit since the time of the Romans. Many religious, historical, and artistic articles are made from this beautiful ancient wood. We have a good supply of olive wood pen and wide blanks from a Bethlehem company that specializes in harvesting this wood.

This particular pen is created with Antique brass metalwork forming celtic knot scrollwork on the tip, clip and end as well as an emerald color cabochon on the end. The wood is finished with an acrylic finish to protect the quality of the wood in a process that took years to perfect.


This ChicagoPen uses a replaceable Parker style ink refill available here or at anywhere that sells office supplies.
This ChicagoPen is approx. .06 inches in diameter.
This ChicagoPen is approx 5 1/4 inches long.
The pen pictured above may not be the exact body on the pen, as I have several of these beautiful pens made. All the wood is finished in a CA finish that took years of practice to perfect.