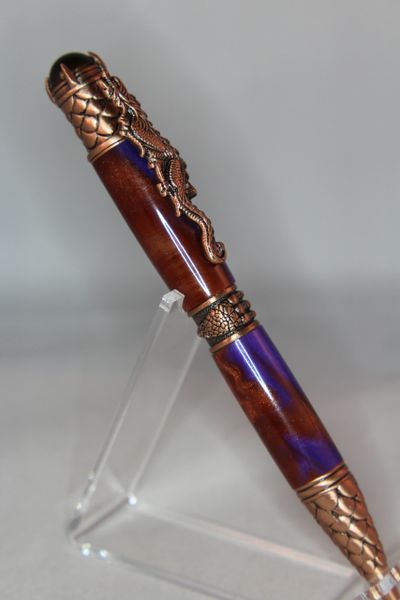 Dragon Purple and Russet
This purple and russet acrylic pen is a masterpiece of brilliance. Finished in an antique copper with an acrylic that was created in the ChicagoPens.net studio, so it is a one of a kind. The Dragon on the clip, claw on the center band, and scales on the tip make this a very unique gift for anyone interested in Dragons and ancient times.
This ChicagoPen uses a replaceable Parker style ink refill available here or at anywhere that sells office supplies.
This ChicagoPen is approx. .06 inches in diameter.
This ChicagoPen is approx 6 inches long.
The clip is a full body, mighty crouching Chinese dragon. The band features a dragon claw grasping the center - a sign of strength and willpower. The pen tip and end cap are covered in the armored scales of the dragon; scales can be seen as a sign of protection. And the Tigers Eye crystal on the end, known to be very effective for instilling courage, strength of will and self-confidence - gripped in place by additional talons.