Navy Inlaid Bolt Action - Chrome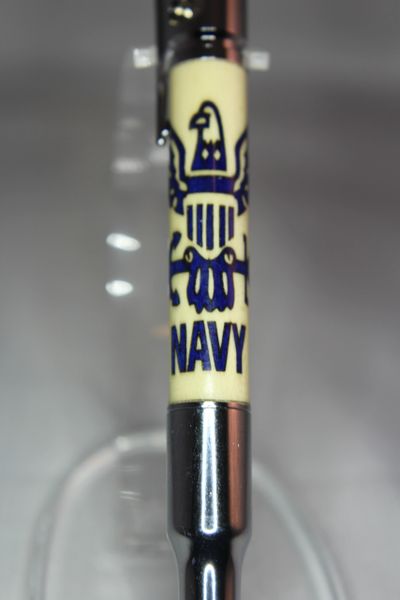 Navy Inlaid Bolt Action - Chrome
This series of bolt action pens sell very quickly, so they must be cool. The Middle size of the 3 Bolt actions, it is not as wide as the magnum style, and it is longer than the mini bolt action. This ChicagoPen is a wooden body inlaid with the Navy Eagle in a blue tinted wood. The wood is then protected in a CA finish that took me years to perfect the technique. This Chicago Pen is finished with chrome metalwork that compliments the colors in the body. The bolt action lever extends and retracts the ink. The clip is a miniature representation of a rifle. The tip of the pen is a representation of a 30 caliber bullet tip.

This ChicagoPen uses a replaceable Parker style ink refill available here or at anywhere that sells office supplies.
This ChicagoPen is approx. .035 inches in diameter.
This ChicagoPen is approx 5 1/2 inches long
Please allow 2-3 weeks for back orders.