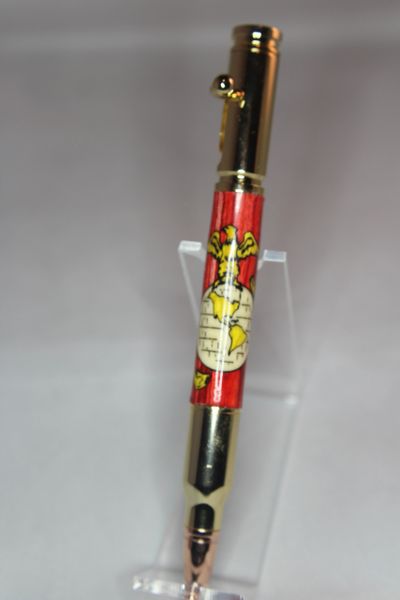 USMC BULLET WOODEN INLAY
The United States Marine Corp wooden inlay bullet pen in gold trim. This one goes fast as it is AWESOME!!! The Eagle Globe and Anchor are all little pieces of wood carefully placed into a red wooden barrel before the finishing can be done. The process is insane but worth all the little blisters and cuss words said during it's creation. This Pen is styled into a 30 caliber bullet replica including a primer on the end and bullet tip where the ink extends from. The ink is controlled by a bolt action rifle action to add to the beauty. The clip is in the shape of a rifle as well.

It makes me so happy that this is my best selling pen of all time. I also give one away to a USMC Veteran for each one sold, also as with all the other Military themed pens 10% of proceeds goes to the Wounded Warrior Project.